Back pain and neck pain are some of the most common reasons people seek out osteopathic treatment.
Our lives are often busy, stressful and increasingly sedentary and this can be hard for your physical bodies. Lower back pain is one of the most common areas to feel pain and can range from simple mechanical injuries from actions like lifting or twisting to more complex and chronic pain patterns. Part of our job is to work out why your back has become painful and the severity of the injury r pain. This helps us know what the best treatment approach for you is, and how long it will likely take to recover, and how much work you will need to do yourself in terms of lifestyle adjustments.
Upper back problems are also very common, especially with desk based workers and anyone experiencing stress at a level that is causing a more stress-based breathing pattern. The posture that comes with sitting is difficult enough for long periods, and then adding in high muscle tensions that come with altered breathing patterns can contribute to upper back discomfort. There is a lot of relief from osteopathic treatment focused in this area, and many people chose to come back periodically once they are recovered for the occasional tune-up when they feel those tensions resurfacing.
Neck pain can be a stand alone concern, or can be alongside back pain and/or headaches. How well our necks can function is determined in part by the mobility of the spine beneath it, so very often we are looking to examine and address these areas together. The upper part of the neck can also cause headaches of varying types, and often respond well to osteopathic treatment.
More Services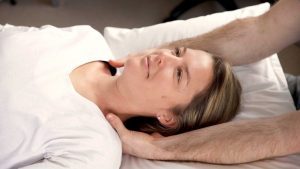 Cranial osteopathy has been around for a long time, but recently it has become more popular – especially for treating babies.
Read More